Accounts Receivable...
Complete customer tracking is an integral part of CounterPoint. The Receivables Option adds charge sales, receivables tracking, cash receipts processing, finance charges, account aging, and statement printing.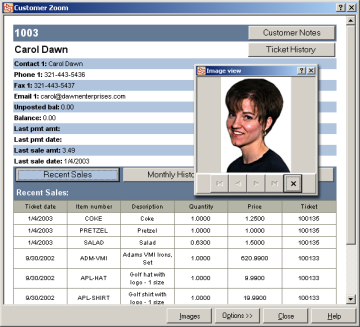 Customer Accounts- Charge customers are "open-item" type accounts. Customer terms and prompt payment discounts may be based on a number of days ("net 30" or "2% 10, net 30"), or proximo terms based on a specific day of the month ("2% 10th, net 30th").
Credit Limits and Controls
Credit limits ensure that customers do not exceed management's guidelines for open credit. For a charge sale, the customer's credit limit is checked, and only authorized users may override the credit limit.
Statements
Statements are normally printed as part of a monthend process. Statements may be limited to customers within particular statement groups and/or to customers with particular minimum balances and past due statuses. A standard statement form may be printed, or the statement format may be customized with Crystal Reports Designer (purchased separately). Customer information, ticket details, activity detail of invoices and payments, aging, and dunning notices can be printed on the standard statement form.
Cash Receipts
When entering cash receipts, a customer's payment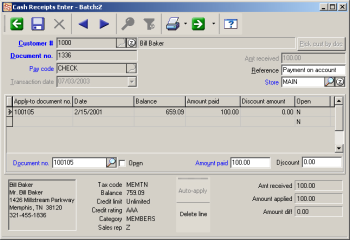 may be applied to an individual document, selected documents, or automatically applied to any unpaid documents (starting with the oldest documents). Open item detail may be viewed on screen. You may revise prior cash receipts by reapplying A/R documents so you can, for example, change the amount previously applied to an invoice.
Valid discounts are calculated automatically, and writeoffs are allowed. Discounts and writeoffs can be charged to the default G/L account or to any valid G/L account. Authorized users can accept cash, check, credit card, or debit card payments on a customer's A/R account from ticket entry.
Debit/Credit Memos
Customer Adjustments allow simplified processing of back-office debit and credit memos that are not appropriate for Point of Sale processing. Adjustment documents may be self-applied, open, or may be applied to an existing document.
Aging
Up to five aging periods may be defined, along with a number of days (such as 30, 60, 90, etc.). Documents may be aged by invoice date or by due date. Statements and the Aging report allow aging by number of days, as well as for a specific range of dates, and provide separate totals for debit and credit amounts. You can view a customer's current aging or the aging that was printed on the last statement.
The Aging report provides an aging summary per customer, or the complete document detail, and allows selection of just those customers with high balances and/or past due accounts. The Aging report may be printed in order by customer number, name, or sales rep.